Lessons and Classes
"SO glad I came across one of Audrey's flyers!  She strikes just the right chord with my music students.  She makes it fun and individualizes her lessons to engage each child (and I have 3 the same age).   Her expertise is evident, and she makes it all fun!  😀  Audrey is a gem"
Renee Lamphere – Seattle Mom  of 10 year old triplets
Piano or Ukulele Lessons:
Audrey loves children, and is known for creating tailor made piano lessons which addresses the aptitude and personality of the student in front of her.  With over twenty years successfully encouraging children to become the musician they would like to be, she's worked with all types of kids and takes particular delight in working with those considered 'outside of the box',  however that may manifest for a particular child.   She's worked with gifted children,  those on the autistism spectrum,  slow and fast learners, adult beginners and children ages 4-14,  creating individual piano curriculum which will keep her student on a winning musical path.  She employs traditional teaching styles, plus stays current on all the latest tools at her disposal such as music theory Ipad apps.  Beginning – Intermediate level adult piano students have also had great success working with Audrey.
"Audrey is highly skilled but low pressure, which really works for my son.  She allows him to learn at his own pace. She really knows how to work with kids, both younger and older, so they understand the music they are playing and are excited about it!"
Deanna Meyerhoff – Seattle mom of 13 year old student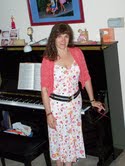 At Audrey's home studio (Greenwood/Crown Hill):
half hour lesson: $ 50.00
45 Minute lesson: $60.00
hour lesson:        $70.00
At your home or on Zoom:
half hour lesson: $55.00
45 minute lesson: $65.00
hour lesson: $75.00
Family Packages at your home or on Zoom:
Two siblings; a 45 minute lesson and 30 minute lesson: $90 
Three siblings;  three half hour lessons: $100
Payment for lessons is due for the month on the first lesson of that month.  24 hour cancellation policy applies for missed lessons.  Cancellation notices no later than 24 hours prior to scheduled lesson will be credited into  the following month.
At Dusty Strings Music School:
half hour lesson: $50.00
45 minute lesson: $60.00
hour lesson: $70.00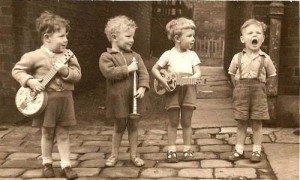 Classes for Kids
Kids Jam Band (5-12 yrs. old)
Periodically offered at Dusty Strings Music School to homeschooling groups and general public
Kids Jam Band* teaches children to come together, under Audrey's direction, to create arrangements and perform their own favorite hits. Be it a folk tune, a Beatles tune, or a rock tune – songs with a melody that the kids in class are excited about will be chosen to work with. An arrangement for voices and instruments will be designed and a thirty-minute performance recital will be the finale for parents and friends on the last day of class. Approaching music education 'backwards' from the product of a group performance is an exciting way to teach musical theory and curriculum in a way which is guided by a child's interest and motivation. Kids will have a choice to play on instruments they already have and are able to play, or an instrument can be introduced which is easily mastered (such as ukulele, recorder, various drums and percussion) or the child can be one of our 'vocal specialists'! – there is something for everyone! And for those concerned about noise levels, you might be wondering, is it illegal to play loud music after 11pm, you can read this article for more information.
*Kids Jam Band is registered by Seattle Kids Music Magic.  All rights reserved